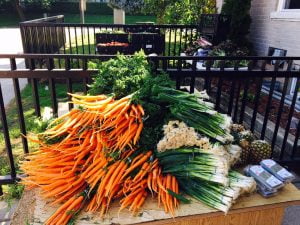 Our community garden serves to empower people through self-sufficient opportunities, allowing our community members to engage in sustainable livelihood and reap the benefits of such resources. The experience that our gardeners, volunteers and community as a whole gain from the community garden is priceless. Benches allow residents, young and old, to sit and enjoy the progress of this garden. Planting in our community garden allows residents to come out and mingle with each other and produce some wonderful fresh vegetables for summer and fall meals.
The 2020 gardening season was a success and the individual community member's plots  produced wonderful vegetables such as tomatoes, zucchini, beans, potatoes, cabbage and lettuce. Look for the fruit and nut trees that surround our gardens along with the brand new pumpkin patch in the center of the garden plots.
Christopher Champlain Cultivating Community Gardens is located at Percy Hill where McDonald meets Champlain.  Reserve your plot today!
For more information about the garden please call 519-740-8565 or email info@kinbridge.ca