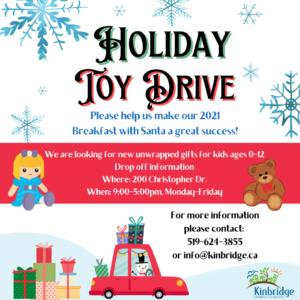 We are excited  to once again offer our signature event, Breakfast with Santa, in person at our main location on December 11, 2021.
At this time we are asking our community for support!
Please help us make our 2021 Breakfast with Santa a great success by donating a new, unwrapped gift. 
Drop off information:
Where: 200 Christopher Dr.
When: 9:00-5:00pm, Monday-Friday
For more information, please reach out to info@kinbridge.ca or 519-624-3855.