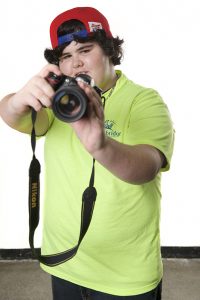 Can you tell me about Kinbridge?
I don't even know what to say, somebody has to be here to know what it is to know exactly what it is to get the gist of it. It's like it's community built, they're there to help, not away from you, they are there to give to you. They do afterschool programs, bike rodeos, drop ins, family outreach, inREACH, all that.
A lot of programs I have to think about it. All the afterschools, the foodbank downstairs, help with clothes, grocery cards and stuff.
When did you first get involved?
Kinbridge sent me to summer camp when I was ten, sent me to Timmies camp and then I was an LIT. Then I'm here afterschool, summer camp, bike rodeo. Get paid now as a leader.
Why do you keep being connected?
Everyone smiles. Nobody's grouchy. Get involved.